Dealers
Featured Dealer #2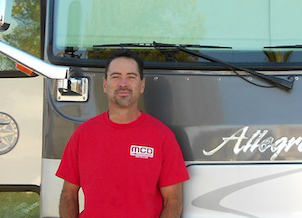 Tropic Shield Sunshades is a 19-year-old family run and operated RV appearance specialist business. they became an MCD authorized dealer in 2008. Steve and Bobbielynn Smith, owners, and operators have focused on an attention to detail reputation and sustainable customer relations.
Tropic Shield Sunshades provides all aspects of maintaining the exterior of your expensive RV such as detailing, stripe removal, roof coatings, and our most popular service – windshield conversions using the industry's leading MCD shades. We provide sales, installation, and repair of all shades. We specialize in both cockpit and interior installation of MCD's modern, new blind system including finishing with new valances if needed.
I'm very excited about this partnership. Here, you have a fine company in MCD Innovations, with the best American made shades out there. Over the years, the interior installation of sunshades has been our primary focus. Now with so many manufacturers using the American Duo Blind System, it has gained credibility, interest and solid reputation to be considered the best in the industry. There is nothing more superior and I get to be a part of that. I'm good at many things, and the installation of sunshades is right up my alley. I enjoy doing custom work and have proven myself with many happy customers. As owner of TropicShield Sunshades, I guarantee knowledge of my product, integrity, and proper installation with great customer service and competitive prices.

- Steve Smith
Tropic Shield Sunshades always offers installation discounts to groups, rallies, and military. Ask about their monthly deductions on MCD shades installations, it could be your lucky day!
Tropic Shield Sunshades
1602 Sweetwater Lane
Spring Valley, CA 91977
619.667.0476